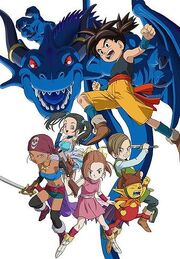 'Blue Dragon' (ブルードラゴン Buru Doragon) romanized as BLUE DRAGON in Japan}} was originally developed by Mistwalker and Artoon but before the game was released a TV anime version was announced to air April 7, 2007 on Japan's TV Tokyo channel.
This is mainly about 6 friends and their shadows: Shuu, Zola, Kluke, Maromaro, Jiro, and Bouquet.
The anime adaptation is directed by Yukihiro Matsushita, animated by Studio Pierrot and co-produced by SKY Perfect Wellthink, TV Tokyo and Pierrot. The anime features a different vocal cast than that used for the game. It also ignored most of the game's plot. The series aired a total of 51 episodes, then a second season of Blue Dragon called Blue Dragon: The Seven Sky Dragons (BLUE DRAGON 天界の七竜, Burū Doragon: Tenkai no Shichiryū?) premiered on TV Tokyo on April 5, 2008.
On April 16, 2007, Viz Media secured the license for the anime adaptation which was originally set to be released in both North America and Europe later in the year, but this did not actually take place. The anime officially premiered in the United States, on Cartoon Network, on April 5, 2008. However, the first episode was shown on March 28 at 11:30 AM EDT as a sneak preview, which was repeated on the channel's Toonami block. As of the summer of 2008, it is no longer airing on Cartoon Network but new episodes can currently be viewed on Toonami Jetstream. Newer episodes are airing on Canada's YTV channel as of September 6, 2008, but stopped airing episodes on December 6, 2008 due to Cartoon Network removing it from the schedule in July. on September 16, 2008, Viz began releasing their North American edited TV version DVDs with a rating of "A" for all ages. Uncut version released by Manga Entertainment has had the first 24 episodes released on DVD (so far exclusively in the UK) over three 2 disc DVD sets with the release date of the next DVD set to be announced. These uncut episodes unlike the US DVD releases fully restores the original Japanese opening and closing, all edited scenes from the Cartoon Network version are restored including the original music, as well as having the option to view the series in Japanese with English subtitles.
Blue Dragon was to be a competition to (Sega) Sonic X Series.
Characters From The Video Games and Anime series were based off the Sonic video games and Tv Show.
Blue Dragon holds the record of 101 Episodes from the first season to the second season. Although it came close to Sonic X 3 Season of 131 episodes.
Blue Dragon 06 came out the same year that Sonic 06 did.
Official Site
Edit