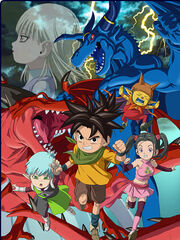 Blue Dragon: The Seven Sky Dragons(ブルードラゴン 天界の七竜, Burū Doragon: Tenkai no Shichiryū) romanized as BLUE DRAGON in Japan}} is the second season of the Blue Dragon TV anime directed by Yukihiro Matsushita, and produced by TV Tokyo, SKY Perfect Wellthink, Pierrot.
2 years after the sealing of darkness, the world has escaped from the crisis of destruction, but not yet has the war ceased, with Rosenkreutz who tried to rule the world leading Logi, and the Resistance opposition's dispute continuing.
With Bouquet and Legolas, Shu battled for the Resistance, but then, one day, a mysterious boy named Noi, who knew about the shadow familiar, appeared, and chasing him, the Red Dragon attacked. Because of Noi's powers, the Blue Dragon revived and somehow repelled it. After that, at Shu's place, Michael manipulated the Red Dragon as a shadow, and like testing something, he launched an unprovoked attack. Just around the same time, at Logi's place also, a person calling himself Lottarus appeared, and immediately after resurrecting Odin, wiped out the metropolis.
To those who call themselves "Superior Life-form's" various troubles started happening, and when Shu finds out that once again there was disaster being caused to the world, he decides to begin a journey to the old days of being a samurai's attendant.
Official Site
Edit
Ad blocker interference detected!
Wikia is a free-to-use site that makes money from advertising. We have a modified experience for viewers using ad blockers

Wikia is not accessible if you've made further modifications. Remove the custom ad blocker rule(s) and the page will load as expected.