Conrad L. Lawrence is a Knight Master who comes from Jibral. He heads up a resistance against Gran Kingdom and ends up getting captured until Shu and Jiro save him. Two years later, he and Griz join up with Legolas' resistance. When it came to a fight between Hildegard, Fagino, and a bunch of dragons, Conrad sacrifices his life to protect Shu from Fagino's attack. Though he later turns up alive, but injured in Talta Village during the Shu/Blue Dragon's fight with Rudolph.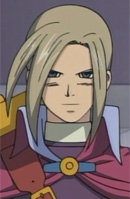 Features from king Jibral in the game
Ad blocker interference detected!
Wikia is a free-to-use site that makes money from advertising. We have a modified experience for viewers using ad blockers

Wikia is not accessible if you've made further modifications. Remove the custom ad blocker rule(s) and the page will load as expected.