Blue dragon Trials of The Seven ShadowsEdit
Below are the dragons first introduced at Zmey when the combined alliance of Shu and ohers, White Guardians and forces of Rosekstan were battling winged creatures send by Rudolph to destroy the mast driver.

Spark Dragon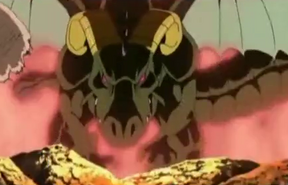 The dragon's appearance is a mixture of animals like its face which looks like that of a bat and horns similar to antlers who live in cold hilly areas which are rounded. Its skin color is reddish brown with red color on its chest and tail. Its eyes are pink. It has spikes on both sides of its tail and its inner wings are white. It can emit lightning waves from its body which is very destructive and able to damage the large brunnack airship and is agile enough to dodge Saber Tiger combined with Hippo and Bouquet. Also it can use its tail for thrashing enemies. It was first injured by knight master Conrad and Griz and then destroyed by Shu and Blue Dragon combined with Noi.
Blizzard Dragon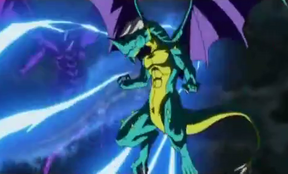 It's skin color is turquiose with yellow from its chest to tail  and purple color on wings inwards. It has horn like appendages near its nose and below its lower jaw and small spike like appendages on its thighs. Its eyes are red with thick black outline. Its horns are tilted in the direction of its face. It can fire a powerful whitish blue wave from its horns which can disintegrate brunnacks of white guardians with ease and also freezed a portion of Kluke's shield. Though it was trapped by Andropov using Clistan Collar, it break through it but was then destroyed by Saber Tiger combined with Hippo and Bouquet.
Amethyst Dragon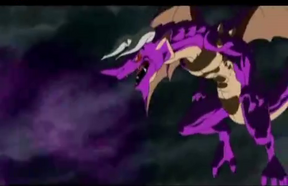 It's name is derived from the color of its skin which is purple, more precisely amethyst. Its chest is human skin colored and its inner wings are muddy orange. Its appearance is somewhat similar to blizzard dragon, like horns, appendage near nose and also towards lower jaw. It has extra horns at his back. Its eyes are yellow with thick red outline. It emits a purple arc shape wave from its mouth which was strong enough to melt down brunnacks. Also it can fire a ball which blasts upon impact. It also created a red orb discharging sparks from its head's horns and fired arc shape energy bullets which destroyed the frozen part of Kluke's shield. Later it was destroyed by Rosekstan's airship Yaggdrasil.
Moody Dragon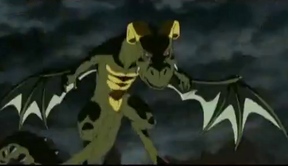 It's appearance is identical to Spark Dragon with the exception of skin color. The color of its skin is muddy green with pale yellow color on its chest and inner lowerside tail. Its tail has five black spikes on both side. Its tail tip is flat and rounded with spikes on it. It can breathe powerful yellow flame blast from its mouth which burns almost anything. It was destroyed by Furioso using his brunnack sword by first blinding it and then impale the sword on his neck.
Phantom Dragon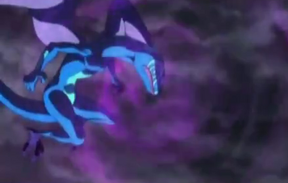 The appearance of phantom dragon is the most different of the five dragons. The color of its skin is blue with swirl markings on its face which is light blue, including his chest part, in elbow side, on wings and tail. Even its eye is a thick sky blue round in shape outline with inner part blue. Its inner wings are pale purple. It emits a purple wave of energy from its mouth which was able to destruct brunnack airships into dust. It can also fire dark purple balls of energy rapidly discharging sparks which explodes upon impact. Also it can emit purple mist like energy that can melt brunnacks and wipe it out. It was destroyed by a combined attack by Alubujem and Minotaur.
These dragons along with winged creatures were unleashed again against shadow wielders when they tried to infiltrate Kaizer Suverto who ambushed them but were destroyed later when Rudolph was destroyed by Heavenly Dragon.
These are the monsters created by Investiture Beings to test the abilities of the shadow wielders by conducting trials on them.
Winged Creatures
Dragon Scale
Blue DragonEdit
Demon Zola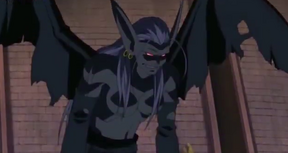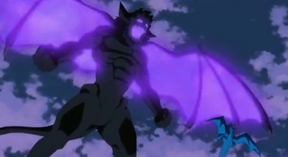 Scythe-Wielding Shadow Monsters
Shadow Monsters
Ad blocker interference detected!
Wikia is a free-to-use site that makes money from advertising. We have a modified experience for viewers using ad blockers

Wikia is not accessible if you've made further modifications. Remove the custom ad blocker rule(s) and the page will load as expected.